NPUC Pathfinder Camporee
September 21-25, 2022 – Kalispell, Montana
For privacy reasons Vimeo needs your permission to be loaded. For more details, please see our
Privacy Policy
.
I Accept
Important Camporee Info
Click the menu items below to get the most up to date camporee info.
Event Tickets
Everyone who comes on site needs a ticket. We make it easy to get them. Register today to purchase for your club or group. All tickets are only $55 ($45 if you register by June 30).
Camporee Location
Camporee is hosted at the Flathead County Fairgrounds in Kalispell Montana: 265 N Meridian Rd #3888, Kalispell, MT 59901.
There is lots of room to camp, play, and worship. And it's just forty-five minutes from the entrance to Glacier National Park!
When may you arrive?
Gates will open for arrivals at 1:00 pm Wednesday, September 21.
Gates will close Wednesday evening at 10:00 pm so everyone can sleep.
Gates will reopen Thursday morning at 8:00 & close again at 10:00 pm
Main Entrance
All groups will enter the grounds through the main gate at the intersection of N Meridian Rd. and 2 Mile Drive.
Check In
Information to come.
Here's the info for facilities and camping.
Water
Come prepared to haul it a ways (like Osh Kosh).
Gray Water
We can dump on grass, but let's screen out chunkies.
Will there be power for my CPAP?
While there is power in a few locations… you should not plan on it being available at your camp site. Come prepared to charge your unit.
Where is our campsite?
We are camping by conferences… spread around the fairgrounds. You will be directed to your conference area when you arrive.
Extra Vehicle Parking
Those not needed for camping, cooking, or sleeping, will likely be asked to park in designated parking areas to leave room for tents.
Showers & Restrooms
There will be restrooms and porta potties available near your camping area. There are a VERY limited number of showers on site (6 total!) so you may want to bring your own club shower solutions or rent a hotel room nearby for shower use.
Dump Station
There is a dump station across the street as you leave the fairgrounds. For a small fee, you can empty your trailer or RV before you hit the road
Transportation on Site
Most places are an easy walk at the Fairgrounds. We will have a limited shuttle service available for those who need it.
Security
We will have security on duty (in addition to the Grizzly bear patrol) just to make sure we know who is on site and to help in case you lose a Pathfinder!
Mobile Medical
Idaho Conference is providing medical services for the event. If you have a sprained ankle or more, they can help
Quarantine Facilities
Of course we hope that everyone coming to the Camporee will arrive healthy and stay that way. But, just in case, we will have a building set aside to quarantine anyone who may begin to feel sick.
Local Hospital and Urgent care contacts
Info Coming Soon
It's About Respect
While most of us have cheerfully thrown off our masks and are enjoying seeing faces that we have missed for the last couple of years, some of our Pathfinder family are still feeling the need to be cautious. Let's demonstrate the heart of Jesus by showing respect to those who choose to continue wearing a face covering.
Here's what respect looks like for our NW Pathfinder family:
We honor health choices as personal choices without comment
When we see someone with a mask on, we give them space and/or put on a mask ourselves.
We talk with our kids about respecting those who make choices different than our own, pointing out that we are not aware of the situation that prompted the choice.
Check our own hearts for prejudice and confess if it's there.
Local Shopping and Supplies
What's available in Kalispell? There's everything you're used to from Costco to Home Depot. If you need to make a quick grocery run, there is an Albertsons grocery store right across the street from the camping area.
We have some great activities planned on and offsite Thursday and Friday. There will be honors, pilot honors, special activities, service projects, and fun, interactive, presentations. If you get the itch, Kalispell is surrounded by millions of acres of National Forests and there are LOTS of adventure activities available. We'll have a link to local activities available soon – they range from water slides to white water rafting! Onsite activities already locked in include:
– Rodeo
– Gold panning
– "The Cave" experience
– Creation Confidence presentation with Stan Hudson
– Honors
– Pilot honors
– Archery
– Birdhouse building
– Mountain Man interactive experiences
My Camporee Adventure Journals: The adventure begins when your trip begins. Each Pathfinder will be given their own printed journal at the BEGINNING of their trip to camporee. Journals will be mailed out by you conference Pathfinder Director you're your club registers. There is room for entries along the way as you travel and places to record lessons learned and special memories each day of camporee. This becomes your personal record of the adventure God wants to take you on as you engage the total camporee experience! Let's Go!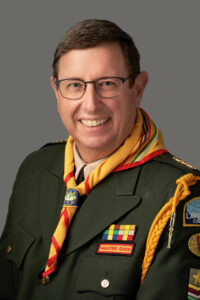 Speaker: Our speaker each evening is Pastor Ron Whitehead, Executive Director of the International Pathfinder Camporee. Pastor Ron has served in four NAD unions as a local pastor, conference youth, and church ministries director. He has also served the NAD as associate youth director and directed six International Pathfinder Camporees.
Ron is married to an amazing woman, the former Betty Lou Becker. Together they have three young adult children, Stacy, Heidi, and Ryan. Ron's hobbies include but are not limited to high-tech toys, classic cars, boats, and large events like Passion Plays.
His favorite Bible text is John 14:1-3 because it reminds him not to "sweat the small stuff."  Jesus is coming again!
Nightly Drama
Have you ever felt awkward in even thinking about taking a stand for God? You're not alone! Caleb and Joshua were close to being stoned for their beliefs in God! The drama each night will have you laughing along with the main characters as they face challenges in modern day situations with ties to the Biblical story.
Special Guest
Pastor Hudson has walked with the dinosaurs! Well, not really, but his presentations make creation history come alive! Guaranteed you will get excited about rocks, bones, teeth, and other artifacts! Each night your Pathfinders Creation Confidence will grow.
Special Features
Special features at Camporees are awesome and the ones we have planned are no exception! Sorry, no spoilers here…just know that they will be great!
Theme Song
Theme songs are fun to learn and fun to sing! You don't have to wait to get to the Camporee to learn our song! It's right here, right now! This theme song will challenge YOU to follow God's call on your life!
Video Recaps
Catch the spirit of camporee fun and each day's activities during the "Day in Review" video each night. Our thanks to our NPUC Communications team for making this fun review possible each night.
Grand Parade
What's a camporee without a parade? We don't know, but we won't find out! Friday evening will be the camporee parade. If you don't know what that is, ask your Pathfinder director! This parade will end with a unique twist! We will be honoring our country with a flag ceremony. You won't want to miss out on this one!
Baptism
We don't want to waste a great opportunity. Before camporee is done, everyone will have an opportunity to make or renew their commitment to following Jesus. We kind of think it's a big deal…big enough to include in our program. God thinks it's a big deal too and He celebrates those decisions: If you want to take your public stand for Jesus at camporee? Let us know and we'll help you make arrangements for your special moment Sabbath evening as part of the evening program.
Prayer Wall
Prayer is a key component of a Jesus follower's life and critical as we answer the call to GO where Jesus leads us to serve Him. You're invited to share your prayer requests and praises on the camporee prayer wall each day. Every night, our Pathfinder prayer team will choose from the requests and praises on the wall and pray over them from the front. All remaining cards will go to our camporee prayer team to make sure every request and praise is specifically lifted up to the throne of grace.
Zephaniah 3:17 (NLT)
For the Lord your God is living among you.
He is a mighty savior.
He will take delight in you with gladness.
With his love, he will calm all your fears.
He will rejoice over you with joyful songs.
Arrival times
Event team members (coordinators, program staff, etc.) may arrive on Tuesday
Camping
We have a designated area for event team staff to camp
Registration
We do ask that you register in advance and check in on arrival
Meals
Our plan is that we will have breakfast for all Event team members, Wednesday through Sunday mornings. This will also be the time of our daily staff meetings. You can plan to cook for yourself or join clubs for lunch and supper.
Camporee Schedule
1:00 PM
Gates open for Check in, Campsite setup
Registration open (Pick up pre-ordered merch & camporee patches)
5:30 PM
Supper
7:00 PM
Worships by conference (Pastor Ron & Worship Team Roving)
9:00 PM
Club Directors Meeting with Event team
10:00 PM
Gates Close for arrivals
Lights out (Grizzly noise patrol begins)
Note: All times are in Mountain Time
7:00 AM
Reveille
7:30 AM
Breakfast
8:00 AM
Gates open
Registration open (Pick up pre-ordered merch & camporee patches)
8:30 AM
Worship by club or conference
9:00 AM
Onsite Activities open
12:30 PM
Lunch
2:00 PM
Off site Service projects begin
Onsite Activities Open
5:30 PM
Supper
7:00 PM
Night time program
9:00 PM
Club Directors Meeting with Event team
10:00 PM
Gates Close for arrivals
Lights out (Grizzly noise patrol begins)
7:00 AM
Reveille
7:30 AM
Breakfast
8:00 AM
Gates open
Registration open
8:30 AM
Worship by club or conference
9:00 AM
Onsite Activities open
12:30 PM
Lunch
2:00 PM
Of site Service projects begin
Onsite Activities Open
• Mountain Man Village?
• Creation Confidence
5:30 PM
Supper
6:15 PM
Parade
7:30 PM
Nighttime program
9:00 PM
Club Directors Meeting with Event team
10:00 PM
Gates Close
Lights out (Grizzly noise patrol begins)
• Early!! Club worship, hit the road to Glacier Park – sack breakfasts recommended as parking will fill early
• All day in Glacier or nature location of your choice
• Do Journal exercises by units while in nature
5:30 PM
Supper
7:00 PM
Night time program
9:00 PM
Gates open for red- eye travelers to exit camp (please be prepared to exit by 10:00 pm)
• Clubs leaving Saturday night should check out with their area coordinators
• Please exit camp carefully and quietly
10:00 PM
Gates Close
Lights out (Grizzly noise patrol begins)
6:00 AM
Gates open for departure
7:00 AM
Breakfast/Break camp
LET'S GO! Back to the Mission Field we call HOME!!
Making Memories
Share Your Camporee experience: Staff are invited to share pictures from your club's experiences traveling to, at, and returning from the Let's GO NPUC Invitational Camporee. If you upload them through the weekend, your shots may appear in the "Day in Review" videos.